MATBUS COVID-19 Response
Last updated: August 26, 2020
MATBUS is committed to the health and safety of our passengers and staff. We are monitoring COVID-19 pandemic conditions with constant communication from local, state and federal officials. Check this page for updates before you ride.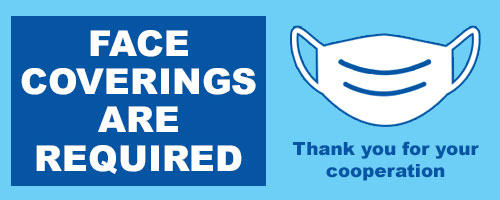 Masks Required
Effective Monday, August 3, masks are required on all MATBUS vehicles. This includes both fixed route and MAT Paratransit services. Masks (or other face coverings) must be worn while you are riding the bus, as well as when you are waiting at a bus stop or hub near other passengers. The mask requirement originally began on July 25 for Minnesota routes.
For those who board a bus without a face covering, bus drivers will provide a complimentary disposable mask for a limited time. Starting September 1, riders must bring their own face coverings. Acceptable face coverings can include masks, bandanas, neck gaiters, scarves, and more.
Passengers with medical conditions or disabilities that prevent them from wearing a mask will not be required to wear one. Children who are 5 years old and under will not be required to wear a mask, and masks are not recommended for children under 2 years old.
Passengers who do not follow this policy may be denied service, or asked to leave the MATBUS vehicle or facility.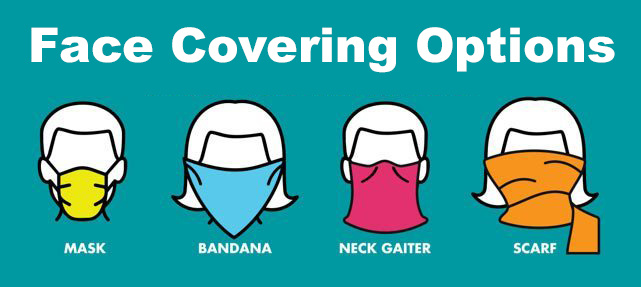 Current MATBUS Service
Fare collection is suspended until at least December 31, 2020. This includes Fixed Route and MAT Paratransit. We will provide at least two weeks' notice before resuming fare collection.
There is no reduction in service. All routes are running as normal, except for those on detours. Visit the Detours page to check your route before beginning your trip.
The temporary downtown hub (located at 401 3rd Ave N in Fargo) is closed to the public.
How You Can Help
Wear a face mask or other type of covering over your nose and mouth.
Please limit your trips when possible, to avoid over-crowding and maintain social distancing.
Leave extra room between yourself and others, both on the bus and at the bus stop.
Wash your hands often with soap and water. If soap and water are not available, use hand sanitizer.
Avoid touching your eyes, nose and mouth.
Cover your cough or sneeze with a tissue or your elbow.
Stay home if you are sick.
In order to keep this service safe for all users, we ask riders to avoid loitering or congregating at the downtown hub. We must also remind our riders not to joy ride. According to MATBUS policy, "Joy riding, which is defined as riding the bus for one full trip without deboarding, is not allowed. MATBUS staff will question passengers who do not deboard within one trip and assist them, if needed, in determining the route needed to reach their final destination."
Steps We're Taking
Free, reusable cloth masks are available for passengers while supplies last. They can be requested from a MATBUS staff member at the downtown hub.
Drivers are provided with cloth face masks, face shields, goggles, gloves and hand sanitizer.
Face masks are required for drivers.
Fare collection was suspended on March 23, 2020, which allows us to keep the downtown hub closed to the public and use rear-door boarding. This will continue until at least December 31, 2020.
The temporary downtown hub at 401 3rd Ave N in Fargo is closed to the public.
Passengers are asked to use the rear door as much as possible. The front door is still available to those who need it for the ramp or bus kneeling feature.
Plexiglass barriers were installed on all fixed route buses. These help separate the driver from passengers. They are also moveable to protect the driver during front-door boardings.
Buses are sanitized frequently throughout the day, in addition to the standard cleaning and sanitizing they receive at night.
Additional buses may be added to routes with high ridership, to help passengers distance from each other.
When possible, MAT Paratransit is scheduling only one passenger on the vehicle at a time.
Stay Informed
For the latest information from MATBUS, continue to visit this page, follow MATBUS on Facebook and Twitter, sign up for Rider Alerts, or call 701.232.7500 option 1.
For a chronological list of actions we've taken, visit our COVID-19 Updates page.
Other Resources
Fargo Cass Public Health
Clay County Public Health
North Dakota Department of Health
Minnesota Department of Health
Centers for Disease Control (CDC)