iGoEco Challenge Prizes 2018
iGoEco participants can register to win prizes if they complete the weekly challenges! The prizes for each week are listed below.
Pre-Registration Week (March 19 - March 25) Four (4) Amazon Echo Dots
Challenge 1 (March 26 - April 1) Four (4) Fitbit Alta Fitness Trackers
Challenge 2 (April 2 - April 8) Four (4) Google Home Devices
Challenge 3 (April 9 - April 15) Two (2) On-The-Go Tech Packages - Packages include one (1) Fitbit Alta Fitness Tracker and one (1) Jaybird X3 Sport Bluetooth Headset
Challenge 4 (April 16 - April 22) One (1) Smart Sounds Package - Package includes one (1) pair of Beats Solo3 Wireless On-Ear Headphones and one (1) Samsung Gear S2 Smartwatch
Challenge 5 (April 23 - April 29) One (1) Amazon Smart Tech Package - Package includes one (1) Amazon Echo (2nd generation), one (1) Amazon Echo Show, and one (1) Amazon Fire TV Streaming Media Plaer with 4K Ultra HD and Alexa Voice Remote
*Grand Prize (March 26 - April 29) One (1) Samsung UHD 4K TV and one Blu-Ray DVD Player
*To be entered in the drawing for the Grand Prize, participants must complete all 5 iGoEco Challenges.
Prize Winners
Pre-Registration Week
Kjiesta Moch
Rochelle Else
JoAnn Hoff
Milissa Miller
Challenge 1
Dave Wruck
Elizabeth Plemel-Scott
Pam Krupke
Mike Holtgrewe
Challenge 2
Carrie Stenhjem
Dani Stenhjem
Ryan Corman
Carolyn Holtgrewe
Challenge 3
Tracey Hibbard
Cristy Risberg
Challenge 4
Lee Gartner
Challenge 5
Brent Muscha
Grand Prize
Denise Stine
2018 iGoEco Challenge Sponsors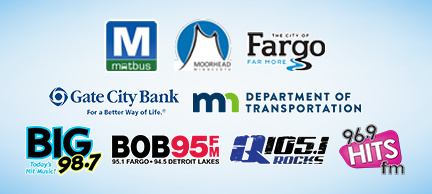 The 2018 iGoEco Challenge is funded by the Cities of Fargo and Moorhead, as well as the State of Minnesota. Prizes are sponsored by Gate City Bank, Big 98.7, Bob 95, Q 105.1 and 96.9 Hits.