TapRide
Skip the Walk | Just Tap
TapRide is an on-demand service offered on NDSU campus during the academic year Monday - Friday, from 7:30pm to 11:00pm. Riders will receive a curb-to-curb ride anywhere on the main NDSU campus. Riders who need to go off campus may receive a ride to the NDSU Transit Hub, which will allow them to gain access to the main MATBUS System.
For riders who do not have a SmartPhone or need assistance, please call our dispatch line at (701) 232-7500
How to use TapRide
Download by searching "TapRide" on the Google Play Store or Apple Store.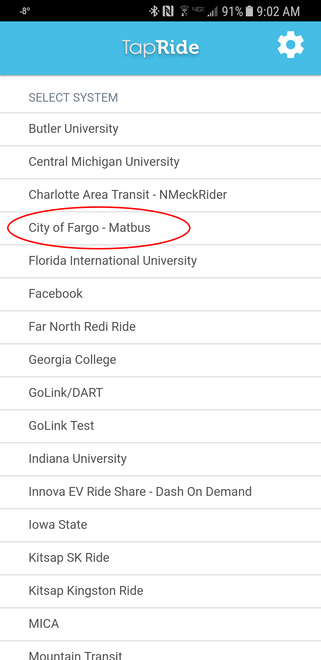 Select "City of Fargo - MATBUS" from the list of agencies.
* Will be available for selection on January 8, 2018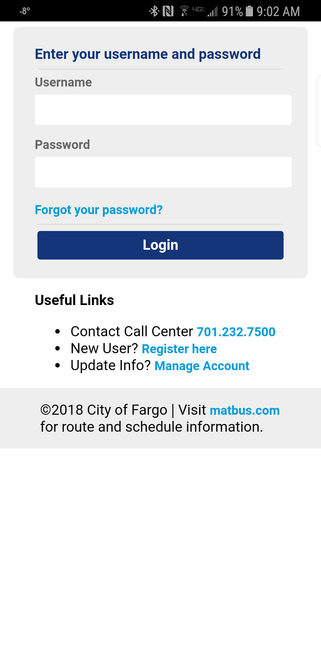 Sign into your TapRide Account
* You will need a valid email address to register for an account.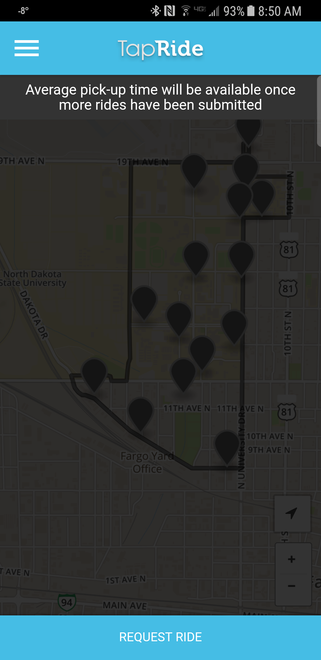 Select "Request Ride" at the bottom of the screen.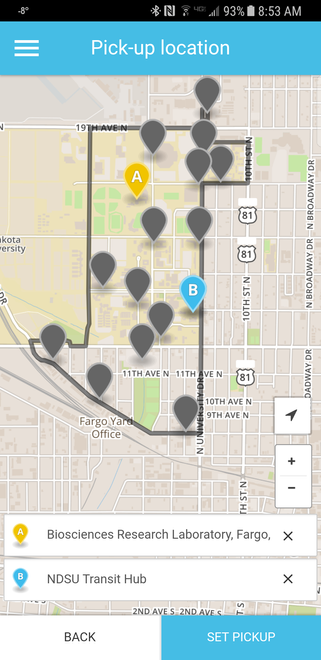 Select your pick-up location by tapping any area within the outlined NDSU Zone or one of the Quick Stops.
Select your drop-off location by tapping the drop off address bar, at the bottom of the screen, then you can select one of the Quick Stops or press the back arrow and tap anywhere in the zone.
Quick Stops
Quick Stops are predefined locations set for popular stops around campus. You may elect to use a quick stop for a pick-up or drop-off, or you may select anywhere on the map within the highlighted zone.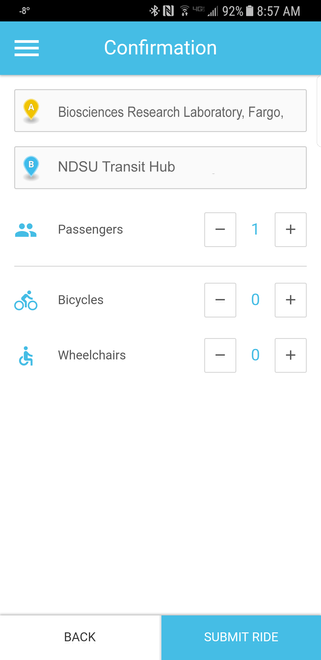 Riders may request a ride for up to 10 people at one time, going from the same pickup location and going to the same drop off location. Riders may also request the use of the bike rack and the use of the wheelchair securement area in the confirmation screen. Once all confirmation items have been selected, submit your ride by selecting the button at the bottom of the screen.
Your request will be entered into our system and you will receive an estimated time of arrival (ETA) for your pickup. Once the driver arrives, he/she will "honk," which will send a notification to your phone letting you know your ride as arrived. In order to minimize wait times for all riders, drivers will only wait five minutes at your pick up point for you to board. After five minutes have passed, the driver will cancel your ride and move on to the next riders. If you still need the ride, you will be required to request another ride.
* When there is high demand for rides:
Tapride will queue your ride when ride requests are in high demand. This will allow the driver to pick-up and drop-off passengers in a more timely manner. You will receive a notification and an estimated time of arrival when this occurs, however; the time will update continually and may change depending upon cancellations or new requests.