About Us
MATBUS is the public transportation system serving the communities of Fargo and West Fargo, ND, and Moorhead and Dilworth, MN. MATBUS provides convenient, cost-effective city transportation throughout the metro area with 24 fixed routes, linking riders to employment, education, healthcare, entertainment, and more.
MATBUS Facilities
Ground Transportation Center (GTC)
The Ground Transportation Center (GTC), located at 502 NP Avenue in Fargo, serves as the core of MATBUS operations. The GTC is the main transfer hub between Moorhead and Fargo routes. It offers comfortable seating, vending and restrooms.
At the GTC, Dispatch Team Members coordinate transfers between bus routes and safely dispatch buses departing the GTC. They also assist in trip planning, selling fare media, and bike and bus training. Passes may be purchased 15 minutes after opening through 10:00 p.m. Visit the Fares & Passes page for current fare types and prices.
Metro Transit Garage (MTG)
The Metro Transit Garage (MTG), located at 650 23rd Street N in Fargo, houses the administrative offices for MATBUS, MAT Paratransit and Transdev (MATBUS driver services contractor). It is also the location of Paratransit Dispatch, the bus garage and shop.
Fixed Route and Paratransit buses are stored, maintained and cleaned daily at the MTG.
Transit Hubs
West Acres Shopping Center - Located at the Roger Maris Museum entrance, the West Acres Transit Hub is fully enclosed for protection from the elements. It features indoor and outdoor seating, system maps, and an emergency phone.
NDSU Transit Hub - This hub is a standalone shelter located just off University Drive by the A. Glenn Hill Center. It is both heated and cooled, and it features seating, system maps, and digital arrivals screens.
Marriott Transfer Hub - This location is on 11th Street S in Moorhead, just east of the Marriott. It features a large shelter with indoor and outdoor seating.
Dilworth Walmart - This hub links Moorhead and Dilworth bus routes and is located on the west side of the Dilworth Walmart. It features a shelter and seating.
MATBUS Organization Chart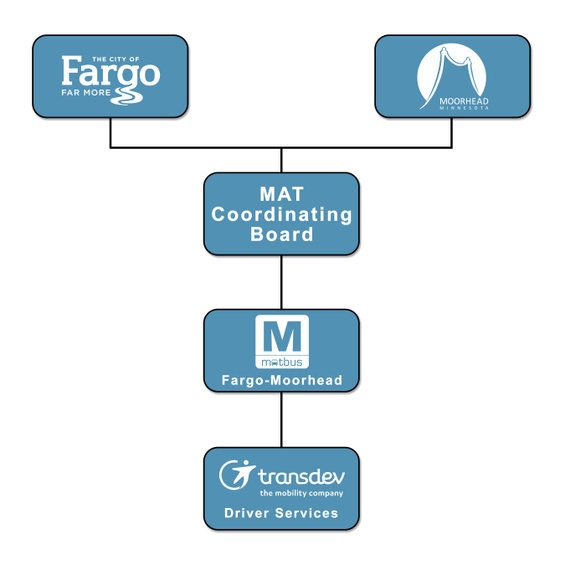 MATBUS is jointly operated by the Cities of Fargo, ND, and Moorhead, MN. Its board, the MAT Coordinating Board, meets bi-monthly to provide recommendations to both cities. Driver services are managed by the contractor Transdev. For employment opportunities at a variety of levels, visit the MATBUS Employment Page.