*** Riding to Pangea? Find more details on our News Post.
LinkFM - FAST, FUN and FREE
LinkFM is a free circulator route connecting the downtowns of Fargo and Moorhead.
LinkFM previously operated as a daily route; but as of January 1, 2020, it only operates during designated community-sponsored events. Visit the LinkFM Events page to see which events we will be serving this year.
The LinkFM route map will remain the same each time it operates, unless there is a road closure detour.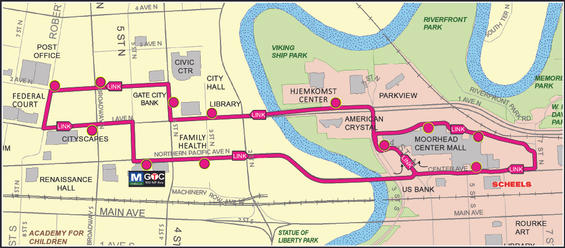 How to Ride
1. Park near one of the bus stops shown on the map. There are 12 in total.
2. Wait for the bus at one of the stops. There will be a large, pink sign at each bus stop that says "LinkFM Event Bus Stop." The bus will make continuous trips on the route throughout the day, but will generally arrive at each stop every 15 minutes.
3. Wave to the driver when you see the bus coming. The correct bus will have LinkFM on the digital sign on the front, above the windshield. Once the driver stops, you can board for free.
4. Pull the bell line (the yellow cord along the windows) when you're about a block away from your destination. The driver will stop at a pink bus stop sign to let you off.
5. Enjoy your day!