Bike & Ride
Bike racks are mounted on the front of each of our buses and can hold up to three bikes. To learn how to use the bike rack, ask our staff to give you a quick lesson on our training bike rack at the GTC. Youth under 18 years of age are encouraged to have their parent or guardian's approval to use this feature on the bus. Whether you're loading or unloading a bike, watch for traffic and make sure the bus driver can see you at all times. As a reminder, directions are printed on the bike rack.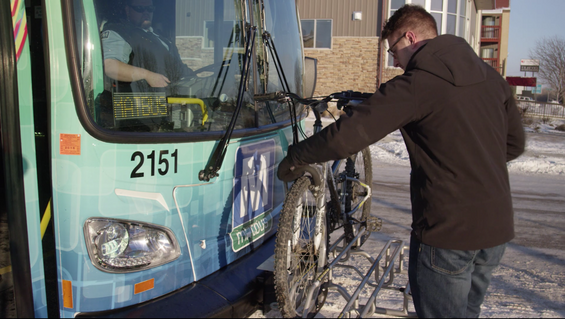 Bike Rack Instructions
Squeeze the handle to lower the rack. Place your bike in the slot, and secure it by raising the support arm to the top of your bike's front tire. Please load your bike in the open slot that is closest to the bus. If the rack is full, you will need to wait for the next bus.
When you're at your destination, tell your driver that you'll need to unload your bike and exit through the front door of the bus. When you remove your bike, if it is the only one in the rack and no one is waiting to load a bike, please return the rack to its upright and locked position. Wait until the bus pulls away before getting on your bike.
Visit BikeFM for more information about biking in Fargo-Moorhead (maps, closures, rules of the road, events and more).