Disability & Accessibility
Utilizing Mobility Devices on MATBUS
If you are using a wheelchair or scooter when boarding MATBUS, our driver will prepare the area inside the bus where your mobility device will be secured. The driver will then lower the ramp. Please wait for the driver to step outside the bus to help you board the ramp safely.
The passenger is responsible for maneuvering their mobility device into position. The driver is required to secure the passenger's wheelchair or scooter to the vehicle, using securement straps. MATBUS has lap and shoulder belts available inside the vehicle, if you choose to utilize them. Wheelchairs must meet guidelines identified with the Americans with Disabilities Act (ADA).
Boarding MATBUS
Passengers using a mobility device will be allowed to enter or exit the vehicle first. Passengers are required to ask for accommodations, such as extending the ramp or kneeling the bus.
Manual wheelchair
Passengers using a manual wheelchair should board and de-board the vehicle backwards with our driver's assistance. To avoid tipping, MATBUS recommends using a tip-bar and the chair's seat belt on any mobility device.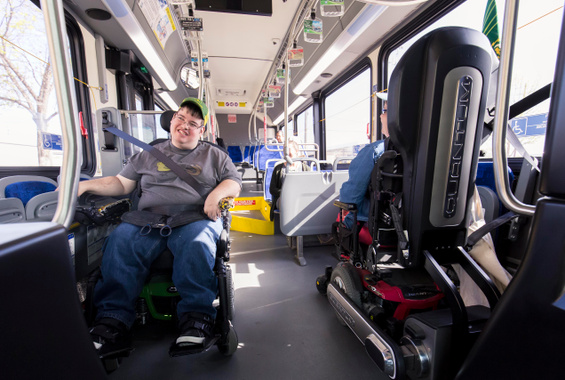 Electric Mobility Device
Anyone using an electric mobility device may use the ramp going forward. Please reduce your speed to avoid hitting equipment inside the bus and to better control your turn into the bus.
Onboard MATBUS
To help our passengers determine when their intended bus stop is approaching, key destinations along the routes are announced through our public address system and on a digital display in the buses. For people with sight impairments or other disabilities, specific intersections can be announced by the driver upon request.
Exiting MATBUS Vehicles
Passengers in wheelchairs should press the bell line located on the bottom of the seat flipped up next to them.
MAT Paratransit
MAT Paratransit is public transportation for persons with disabilities who are unable to use MATBUS Fixed Route Bus Service without assistance. For more information on this service, including eligibility requirements, visit the MAT Paratransit section of this website.