Welcome to the 2019 iGoEco Challenge, running from September 16 - October 13!
The iGoEco Challenge is a promotion organized by MATBUS with joint support from the Cities of Fargo and Moorhead. Our goal is to encourage citizens to consider replacing solo car trips with a more eco-friendly option. Alternative transportation reduces our carbon footprint, reduces traffic, and saves money!
How Does It Work?
The iGoEco Challenge is separated into four separate Challenge weeks. Each week, submit your contest entry by 11:59 p.m. on Sunday and tell us how you "went eco" that week.
You can go eco by leaving your vehicle at home and walking, biking, carpooling, riding MATBUS, or rollerblading instead!
The first 250 registrants will receive a reusable metal straw as a gift; only while supplies last. You can pick up your straw at the Ground Transportation Center (502 NP Ave in Fargo) starting Monday, September 9.
For each Challenge you complete, your name will be entered into a drawing for one of the weekly prizes, valued at $150-$500. Check out the Prizes/Winners page for details.
If you complete all four Challenges, you will be entered into a drawing for the grand prize valued at $1,000, provided by Gate City Bank!
2019 iGoEco Challenge Sponsors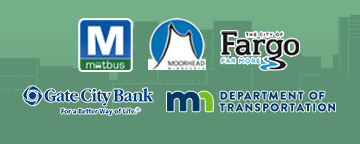 The 2019 iGoEco Challenge is funded by the Cities of Fargo and Moorhead, as well as the State of Minnesota.